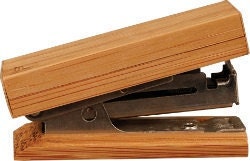 Bamboo Office Supplies with Custom Laser Engraving 7/8" x 2 - 1/4"
Ideal Design Ideas:
- Name
- Merry Christmas/ Happy Holidays
- "Best Wishes on Your New Job!"
- Company Logo

Contact me for your custom design!

Discount available for bulk orders!
Frequently Asked Questions
Custom and personalized orders
Send file pdf bk/wh (high quality image possible)via e-mail so a price quote may be given.